SOMA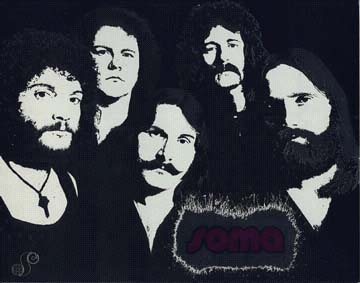 Courtesy Of Richard Bonner
Band Members:
Ritchie Oakley (Lead Guitar)

Frank MacKay (Lead Vocals)

Donnie Morris (Bass, Vocals)

Donnie Muir (Keyboards, Vocals)

Bob Murphy (Rhythm Guitar, Vocals)

Norman Calp (Drums)

Bruce Wheaton (Percussion, Vocals)

Layne Francis (Saxophones)

Duncan George (Saxophones)

Andrew Meltzer (Electric Violin)

Charlie Gray (Trumpet)

Keith Jollimore (Saxophones)Replaced George

Jack Harris (Percussion, Then Switched To Drums)


Biography:
Soma was formed in 1969 by former "The Stitch In Tyme" keyboard player/turned rhythm guitarist, Bob Murphy. A number of players revolved in and out of the band in its early days until it played its first gig at Delmar's Barn just outside of Truro, Nova Scotia. The show sold out. The line up at this gig was Murphy, former "The Stitch In Tyme" bandmates, Donnie Morris on bass and Bruce Wheaton on congas, former members of "The Lincolns", singer Frank MacKay, organist Donnie Muir, saxophonist Layne Francis (The Novatones) and trumpeter Charlie Grey, Ritchie Oakley (who played bass in "The Five Sounds" which became "Central Nervous System") on lead guitar, drummer Norman Calp from Saint John, New Brunswick, saxophonist Duncan George (who Murphy brought from Toronto) and electric violinist, Andrew Metzler.

Band name, "Soma" was taken from the name of a drug in Aldous Huxley's book "Brave New World".

This line-up was short lived as Wheaton, who wanted to return to playing guitar and writing his own songs, returned to Ontario to form "Everyday People". His replacement was Oakley's friend Jack Harris. Grey, who had just graduated high school left the band to go to Berklee in September. In December 1969 the band went to Toronto. George left the band just before they opened for the Chicago Transit Authority at the O'Keefe Centre. Oakley's former "Central Nervous System" bandmate, Keith Jollimore replaced George on sax. Harris switched to drums and for awhile the band had two drummers until the departure of Calp. The line-up was reduced further with the departure of Metzler.

Before the line up was pared down to a six piece band, they had a recording session in Detroit, Michigan. Unfounded rumor that the band was based there came from this session. Unfortunately the material from this session was never released, and in fact the tapes would appear to be in the hands of an ex-roadie. They became a six piece band when Layne Francis left the band to form the Truro, N.S. based "Horse" and Keith Jollimore joined "Lighthouse".


In 1971, with the line-up reduced down to Oakley, Harris, Murphy, MacKay, Morris,and Muir (Ohmmmm as credited on the singles), the band released its first single (Train/Welcome Love) on Aquarius Records. Second single (Technicolor Dreams/The Box) was released in 1972. Both singles charted.

Early in 1972, the band broke up for approximately four months. MacKay joined the existing band, "Turnpike" which changed its name to "Junk". Oakley, Morris and Harris teamed up with Saint John, N.B. singer, Terry Hatty to form "Oakley, Morris, Harris and Hatty".

In June of 1972, Halifax entrepreneur Peter Christakos got MacKay, Morris, Muir, Oakley and Harris back together and took over management of the band.

During their career, Soma was the opening act for several famous bands including: Chicago, Sly And The Family Stone, The J Geils Band, Santana and Rod Stewart.

Late in 1976, things started to come apart with the departure of MacKay and Morris. Manager Peter Christakos tried to keep band alive by bringing in new musicians. This led to the creation of the band "Ram ".

MacKay went on to an acting career and also continues to sing with various bands of the best available local musicians. Oakley left to form the highly popular Oakley. Muir continued with Ram until they broke up and then played with The Dutch Mason Blues Band. Morris formed his own band Zipper and later rejoined Oakley in the Oakley band. Harris went on to play in Chalice. Murphy formed the country band "Bob Murphy and Big Buffalo".

Written from info from: Frank MacKay, Ritchie Oakley, Terry Hatty, Bruce Wheaton, Jim Rice, Duncan George and Richard Bonner
Discography:
SINGLES:

1971 Train/Welcome Love (Aquarius)

1972 Technicolor Dreams/The Box (Aquarius)

Updates:

On October 4/2003 the best known line-up of SOMA of Ritchie Oakley, Frank MacKay, Donnie Morris, Donnie Muir and Jack Harris reunited to play at the Nova Scotia Classic Rock Revival held at the Halifax Forum.

The band also reunited to play at the "Evening With Scrapper's Friends" benefit on October 10/2004 and were joined by Pam Marsh doing backing vocals.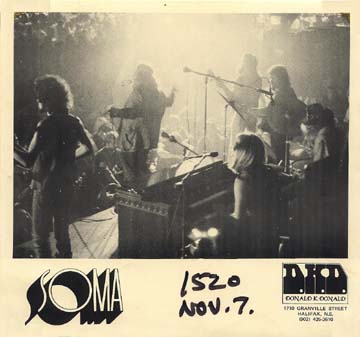 Courtesy Of Richard Bonner
Anecdotes:
"Jack Harris was good enough to play with Zappa, and Frank McKay was the only singer I've ever seen who needed no P.A." - Chris Cottie (Nova Scotia ex-bar band hack (Icarus, Number 9, Axis, Crunch) and Florida recording hack (David Allen Coe, The Eat, Drug Czars))

"In the bottom notes on the great band Soma...it was mentioned that Frank MacKay could sing without a P.A. system. One memonry that will live with me forever was at our regular Saturday night gig at the Lantz school, having a few intermission "pops" with Frank and the Lincolns outside in the parking lot. We asked him to do a couple of numbers when we started up and he did a slow 4 chord blues number in "C"...without a microphone and it raised the hair on everyone's arms. The strength and clarity of his voice just blew everybody away and we finsihed the number with our mouths open in astonishment. People who were at the back of the auditorium told us his voice was so loud and clear that it would almost make your ears
bleed. He told us with a chuckle that he made up the words as he went along. Great man...great memory. (Don MacLeod, drummer of The Axemen)



"Technicolor Dreams" On Youtube