Ram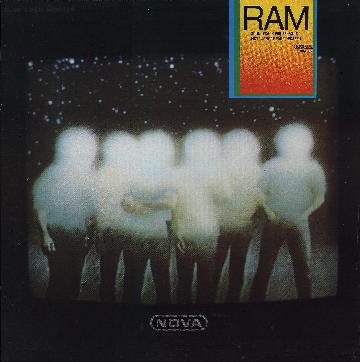 Band Members:

Terry Hatty(Vocals,Percussion)

Pat Riley(Bass,Vocals)

George Antoniak(Guitar)

Steve Naylor(Keyboards)

Donnie Muir(Keyboards)

Jack Harris (Drums)

Mike Sloski (Drums) Replaced Harris

Donnie Chapman(Drums) Replaced Sloski

Terry Silverlight(Drums) Replaced Chapman


Biography:
Following the departure of Frank MacKay and Donnie Morris from the final line-up of "Soma" in late 1976, producer Peter Christakos, in an attempt to keep the band alive, brought in Saint John, New Brunswick natives Hatty (Storm, Devotion, Pepper Tree) and Riley (Storm) who was in "Scrubbaloe Caine" with future "Streetheart" and "Loverboy" guitarist Paul Dean, Al Foreman of the "Al Foreman Project" and Henry Small of "Small Wonder". Ritchie Oakley left shortly after to form his own band "Oakley", and Hatty and Riley then brought in Antoniak (Storm) and Naylor who had recently left the Quebec band "Lougarou". Soma drummer Jack Harris stayed until the spring of 77 and was replaced by Toronto drummer Sloski who stayed until the fall of 77. Dartmouth native Chapman (Albatross, Foxe) stabilized the line-up for the next two years.

With Muir being the only member from Soma remaining, the name of the band was changed to Soma/Lightstream, then to simply Lightstream and finally to Ram.

Prior to recording album in 1979, New York session drummer Silverlight replaced Chapman.

Band released "Soundtrack For Pegasus 1" in 1980 consisting of five Hatty originals, three Riley originals and one Hatty/ Riley/ Christakos composition. Album was recorded at Scorpio Sound Studios in Halifax and engineered by Terry Brown of Rush fame. The Movie "Pegasus 1" for which the album was to play a role, was another project of Christakos' that has never been completed.

Unfortunately after the album was released, Pickwick International - the company distributing the record, who primarily distributed classical music - was busted for international record piracy and all product was removed from stores and put in a warehouse in Toronto. The album did not see the light of day after this.

After band split up in 1980, Hatty formed the "Terry Hatty Band" and in the late 90's was part of "The Guess Who" before the original line-up reunited. Hatty currently plays in "Off The Record"with former Devotion band mate Paul DeLong (Kim Mitchell, Domenic Troiano, Gowan, etc,).

Riley and Antoniak formed "Ought To Be" with former Oakley singer Wayne Nicholson. Riley then got into production work, producing three Q104 Homegrown albums, "Counting Zero", "Glenn Wright","McGinty's "Breaking Tradition"and gospel album "Holly Rodam". Riley lead the Christian group "The Day" writing and producing three albums and performing for Pope John Paul II. He teaches at the Canadian Conservatory of Music, is still producing, is presently working on a solo project and is the "voice of soccer" on Eastlink Television's coverage of Atlantic soccer. He currently plays with "The Swell Guys".

Antoniak went on to replace Mark MacMillan in "The Minglewood Band" until it was disbanded in 1984. He is an in-demand session player and has also performed with Laura Smith. He became a sought after song-writer, writing for such artists as Lisa MacDougall and Laura Smith.

Muir joined the "Dutch Mason Blues Band" and studied nuclear medicine. He is one of the most sought after organ players in the Maritimes playing with Ian Janes and Frank MacKay, to name just two.

Naylor joined "John Brennan's All Stars". He is presently working on his doctorate in Sonics through the University of Birmingham England. and has taught until recently at Dalhousie University and has scored countless Atlantic Canadian films.

Don Chapman has received three MIANS awards and one ECMA for engineer of the year. He is one of the most sought after engineer/producers on the east coast and works out of his studio," D.C. Productions".


Thanks to Terry Hatty, Pat Riley and Bill Wiggins for the info.




IRONIC FOOTNOTE:

In the early 90's when Hatty was a part of The Guess Who they recorded an album on the Aquarius label which was picked up for U.S. distribution by "Intersound"who had bought the Pickwick catalogue. Both times Hatty has been on a label their primary releases were classical and essentially it has been the same company.

Discography:
SINGLES:

1980 Love You Girl/Tension (Nova)

1980 Party Downs/Blue Moon Man (Nova)

1981 Love You Girl/Love You Girl (Nova promo)

1982 Get Out/I Feel Your Pain (NOVA)

The Strap (stereo) / The Strap (mono)(NOVA)


ALBUMS:

1980 Soundtrack For Pegasus 1(Nova)


COMPILATIONS:

1982 Eastern Alliance (CBS)"Love You Girl"

Updates:

RAM reunited to play the Nova Scotia Classic Rock Revival held at the Halifax Forum on October 4/2003. The line-up of Terry Hatty, Pat Riley, George Antoniak, Donnie Muir and Don Chapman were joined by Ken MacKay on sax.

The above line-up were joined by Steve Naylor and Mike Sloski at the "Evening With Scrapper's Friends" benefit held on October 10/2004. Check out the link below for videos of that night.

Courtesy Of Pat Riley

Left to Right:
Pat Riley, Don Chapman, Terry Hatty, Sam Moon and George Antoniak