Mason Chapman Band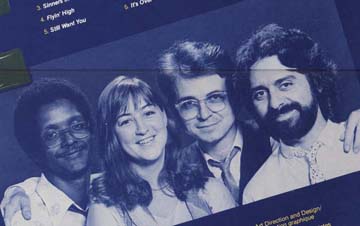 Courtesy Of Terence Dwyer
Band Members:

1979-82
Doris Mason Keyboards, Vocals
Bruce Chapman Keyboards, Vocals
Dave Skinner Drums, Vocals
Mike Andrusyk Bass, Vocals

1982-1984

Doris Mason Keyboards, Vocals
Bruce Chapman Keyboards, Vocals
Dave Skinner Drums, Vocals
Roger Arsenault Bass, Vocals

Biography:

Four piece band formed in Halifax in 1979, known for its "all keyboards"sound and tight four-part vocal harmonies. Band played exclusively throughout the Atlantic Provinces developing a sound that relied heavily on vocals and seven keyboards. Band featured music from several genres – pop, jazz, R&B, swing and contemporary.

In 1982 the line-up of Doris Mason, Bruce Chapman, Dave Skinner Mike Andrusyk and guests went into Solar Audio Studios in Dartmouth, N.S. and recorded their self-titled debut album. Roger Arsenault joined the band after the album was recorded and does not actually appear on it although credited. The album was engineered by Carl Falkenham and Keith Delong with Glen Meisner producing and contained ten original compositions.

Guest musicians joining the band included John Hollis on sax, long time Anne Murray guitarist Georges Hebert, Roger Simard on percussion, Eugene Husaruk , Juan Fernandez, Denise Lupien, Luis Grinhauz on violins and Guy Fouquet on cello. String arrangements were done by Skip Beckwith.


Discography:

Singles:

1982 Flying High/Still Want You (M.C. Records)

Albums:

1982 Mason-Chapman Band (M.C. Records)

Compilations:

1982 Eastern Alliance (CBS) "Just One Bullet"

Courtesy Of Terence Dwyer
Info From Jim Rice, Terence Dwyer And Mike Andrusyk