The Lincolns
| | |
| --- | --- |
| Frank MacKay: | Lead Vocals |
| Layne Francis: | Sax |
| Lee Taylor: | Sax |
| Rod Norrie: | Drums |
| Brian Chisholm: | Bass |
| Frank Mumford: | Lead Guitar |
| | |
| --- | --- |
| Donnie Muir: | Bass, Organ |
| John Gray: | Organ |
| Barry Ryan: | Bass |
| Dick Snook: | Sax |
| Jack Lily: | Drums |
| Charlie Gray: | Trumpet |
| Bubsy Brown: | Guitar |
The Lincolns were formed in Truro, Nova Scotia in 1961. The original line-up remained intact until 1965 when Donnie Muir replaced Brian Chisholm on bass and John Gray was added on organ. In late 1966 when John Gray left the band, Donnie Muir switched to organ and Barry Ryan (The Imperials) joined as bassist. In March of 1968 Lee Taylor died from diabetes, and was replaced by Dick Snook. Later, in 1968 Rod Norrie retired and Jack Lilly (The Five Sounds, Central Nervous System) became the drummer. Charlie Gray (John's brother) also played trumpet with the band for a brief period.
"The Lincoln's-Together Again", a "live" recording featuring classic R&B covers such as "I've Been Lovin' You Too Long", "Hold On I'm Comin'", and "Knock On Wood", was released in 1978 on the Black Bear label. The album spotlighted lead singer Frank MacKay's original ballad "She Is True", a song that would later be featured in the movie "The King Of Friday Night", based on former Lincoln John Gray's hit musical play "Rock and Roll".
The Lincolns were one of the most popular bands in the Maritimes during the 1960's. They still occasionally play reunion gigs.
1978 The Lincolns - Together Again (Black Bear)
Info from Frank MacKay and Bill Wiggins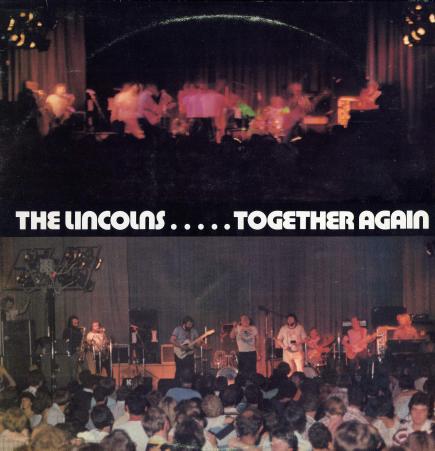 Courtesy Of Jim Rice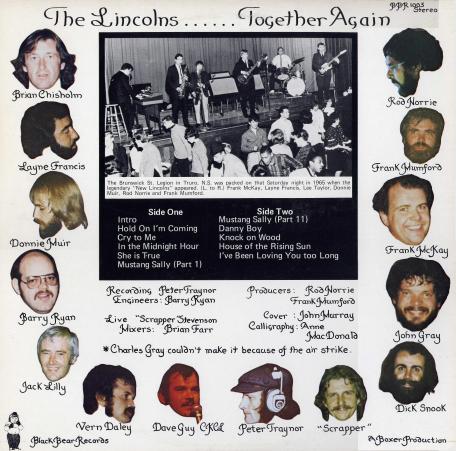 Courtesy Of Jim Rice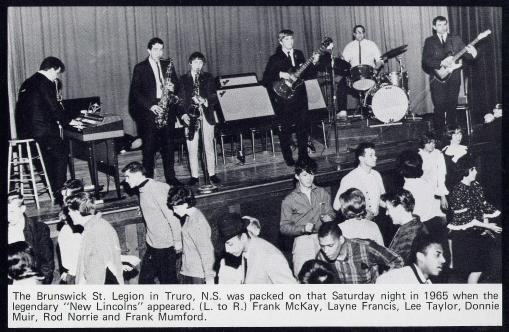 Courtesy Of Jim Rice
---
Return to the
Nova Scotia Classic Rock
Main Page