Horse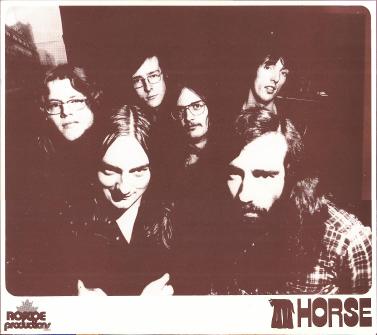 Courtesy Of Richard Bonner
Scanned By Jim Rice
| | |
| --- | --- |
| Wayne Nicholson: | Lead Vocals, Flute |
| Layne Francis: | Sax |
| Doug MacKay: | Drums |
| Richie Richmond: | Bass |
| Dave Kindred: | Guitar |
| Charlie Ward: | Guitar |
| Dick Snook: | Sax, Flute |
| | |
| --- | --- |
| Abbey Aucoin: | Guitar (Replaced Guitarists) |
| Earl McKenzie: | Bass (Replaced Richmond) |
| Paul Barrett: | Trombone, Keyboards(Added) |
| Greg "Phisch" Fancy: | Bass(Replaced McKenzie) |
| Kenny MacKay: | Sax |
Biography written by Paul Barrett
Horse was started in 1970 by saxophonist Layne Francis with original personnel – vocalist Wayne Nicholson, drummer Doug "Dog" MacKay, bassist Richie Richmond, guitarist Dave Kindred, guitarist Charlie Ward, and saxophonist and flutist Dick Snook. The band played many dates around the Maritime Provinces and wrote a couple of original compositions to go with the "cop" songs that constituted their repertoire.
A year or so later, the personnel changed to include Abbey Aucoin on guitar, Earl MacKenzie on bass and Paul Barrett on trombone and piano. Approximately two years after that, the last change was made and Gregg "Phisch" Fancy became the bassist for the band. This group remained the same until March of 1975 when Layne Francis left the group. The concerts, tours and club dates continued with a five-piece band until May of 1976 when HORSE finally broke up for a variety of reasons.
Always a very busy band, Horse was also very creative musically – original material was always one of their strongest aspects. Wayne Nicholson is the band's lyricist and all of he band members had a hand in creating the music. The compositions were crafted in a full group rehearsal situation starting with ideas presented by individual members.
HORSE was a well-travelled group playing extensively all over the Maritime Provinces, did the first of three tours of Newfoundland in September of 1973, toured Ontario three times in '72, '73 and '74 and did one Canadian tour which included three gigs with the well know 1970's Canadian band Chilliwack. HORSE also was featured as the opening act for three other well known American bands – The James Gang, The J. Geils Band and Ike and Tina Turner. Another two unique performances were in 1974 when the band played for the inmates at Dorchester penitentiary – two interesting gigs to say the least.
1973 Broken Wings/You Were Gone (Big Ear)
2014 After All This Time (Live) Hoof And Mouth Records
Layne Francis, Wayne Nicholson, Doug MacKay, Paul Barrett, Greg Fancy and Abbey Aucoin reunited to play at the Hazen Horsman tribute in May of 2004. They again reunited to play at the "Evening With Scrapper's Friends" benefit on October 10/2004.
On August 8th and 9th of 2014 all the original members of the six-piece group returned to the Truro Legion, the venue where the band played so many times over the six years they were together. Joining them was saxophonist Ken MacKay - brother of Doug – who spent many hours listening to the band during his high school days. The material for this gig was selected from the over 40 original songs that were written by the group along with a couple of "cops" that the band was well-known for.
HORSE reunited in 2014 to play a few gigs and complete some unfinished business…….namely to get the songs that they wrote years ago finally recorded and released. They decided to do a live album and because they were a TRURO band, they recorded the 2 shows at the Truro legion. A 2cd live disc of HORSE is the result and the band are very happy with the results.
The Personnel written by Paul Barrett
Vocals and Flute - Wayne Nicholson – Wayne started his musical career in a band based in New Glasgow called Nite Cult, and in 1970 was asked to become a member of Horse. After a stint in Edmonton, he returned to Nova Scotia to be the frontman of the very successful Oakley Band based in Halifax. Since then, Wayne has recorded five solo CDs, and has received five ECMA nominations. A recipient of the Stompin' Ton Connors Award and a member of the Q104 Walk of Fame, Wayne sings regularly with his Eastenders Band and works in the film and television industry – most recently on the new Trailer Park Boys movie.
Saxophones - Layne Francis - The founder of the group, Layne still plays a wicked saxophone – both Tenor and Alto. He is responsible for the establishment of many groups Truro based over the years, the first being the Novatones which was formed in 1957. Next was The Lincolns of which he was a founding member along with Frank MacKay, Donnie Muir, Frank Mumford, Dick Snook, Barry Ryan and Roddie Norrie. After The Lincolns, Layne performed with the fusion rock band Soma, based in Toronto with several Maritime musicians including Ritchie Oakley, Donnie Morris and Jack Harris from 1969 until 1970 when he formed formed Horse – this band was together until 1975. Layne has played with many people in the span of his musical career including Frank MacKay, Bill Stevenson and Amos Garrett in the '80s and '90s. He now lives in Chester Grant and still works as a musical instrument repair technician specializing in saxophones.
Piano and Trombone - Paul Barrett – Since retiring from his position of director of music at Cobequid Educational Centre, Paul has remained very busy writing and performing. The first project of his retirement years was a Carole King tribute show called Where You Lead for which he transcribed the music for the five-piece band and played piano. Shortly after that Paul stared the very successful Nova New Horizons Band project with which he is still very busy. He has for many years been involved with Jeff Goodspeed and the Los Primos Project, has played with the Ghostrider Blues Band and still performs with The Usual Suspects, a top notch top 40 band. In addition Paul leads The Back Alley Big Band and performs with several different style groups – Opus One, Ellavation, dixieland bands, German bands, Latin bands and plays jazz trombone for Sunday Jazz at Roadside Willies.
Guitar - Abbey Aucoin – Responsible for the driving rock guitar edge of Horse, Abbey joined the group straight out of high school when he was 16 years young. Having no formal musical training, he soon became a contributing member to the writing team that penned the over 40 original songs that comprise the band's original repertoire. Abbey continues to perform in various area rock and blues bands, playing his signature Stratocaster guitar hooked up to a fender amplifier. Although he prefers jam sessions, he is holding his own as Horse recreates their musically complex material live on stage. Unfortunately Abbey passed away unexpectedly at home on Jan. 17/2022 at the age of 67.
Bass – Greg "Phisch" Fancy – Phisch joined Horse in 1971 and remained the bassist through the rest of the band's career. Having been the bassist for the renowned Dutch Mason Blues band 12 years, he also continues to perform with Joe Murphy and The Waterstreet Blues Band, a group he has been with for the past 30 years. A true international musician, Phisch has toured Europe no less than 8 times with Tony D. and Marty Hall – England, the Czech Republic and Germany. In addition to playing with Truro based Over The Influence and Turning Point he has free lanced with likes of Frank MacKay and Bill Stevenson. This "bass man" has performed at many major festivals and concerts North America and overseas and appears on many recordings – vinyl, CD and DVD.
Drums – Doug "Dog" MacKay – An ECMA Award winning drummer and Q104 Rock and Roll Wall of Fame member, Dog is a veteran performer on the East Coast Blues and rock scene. One of the founding members of Horse, and later an original member of The Oakley Band, over the years Dog has performed, recorded and toured with several different acts – to name a few Sam Moon, Joe Murphy, Tony D., Marty Hall, Dutch Mason, Matt Minglewood, Dan Ackroyd, the Horsepower Blues Band, and the BC Kwartet. He currently teaches privately in his MacKay Music Studio and keeps a busy schedule with The Sounds of Motown, Wayne Nicholson and the East Enders, as well as being a popular freelance drummer in the Halifax area.
Saxophones – Ken MacKay – A special guest at the Horse Reunion is Ken MacKay playing Alto and Tenor Saxophones. Diverse is the best word to describe Ken's musical background – a native of Truro and along with Dog, son of the well-known Ron MacKay. The list of his professional credits is impressive – Frankie and The Four Seasons, Regis Philbin, Rosemary Clooney, Max Weinberg, Bruce Springsteen, Mary Wilson from The Supremes, Dan Ackroyd, The Temptations, and blues rock artist Robben Ford are just a few of the world know performers he has played with. Locally he performs with Scott and The Rocks, The Aviators, The Swell Guys, The Back Alley Big Band, The BC Kwartet and Brett Ryan. Ken's ability to play in a variety of musical styles combined with his rollicking personality has established him as one of the most exciting saxophone players in Eastern Canada.
HORSE on Youtube
Other HORSE links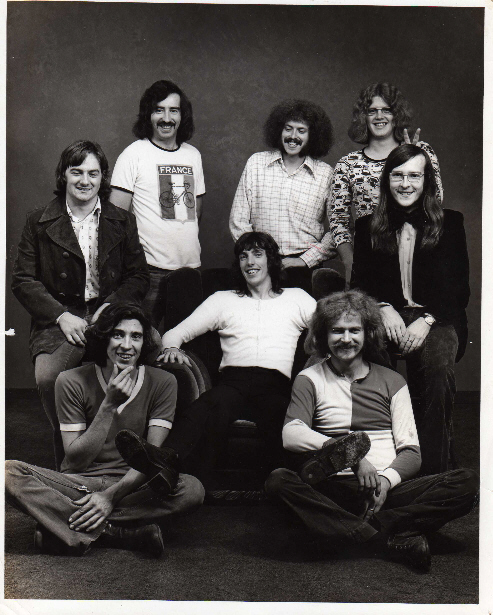 Courtesy Of Layne Francis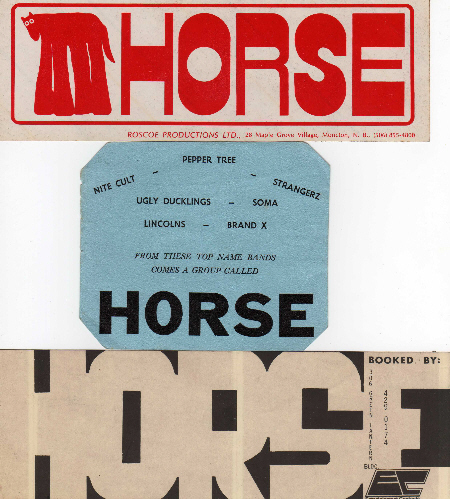 Courtesy Of Layne Francis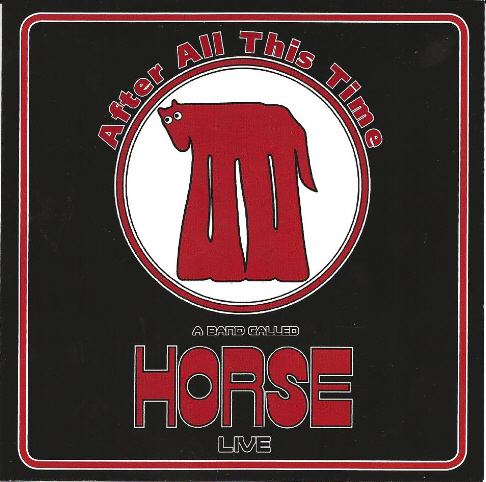 Courtesy Of Steve Marsh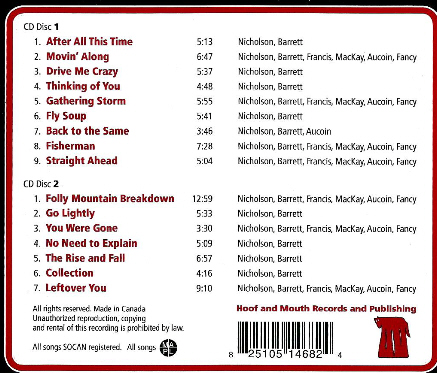 Courtesy Of Steve Marsh
---
Return to the
Nova Scotia Classic Rock
Main Page