Dutch Mason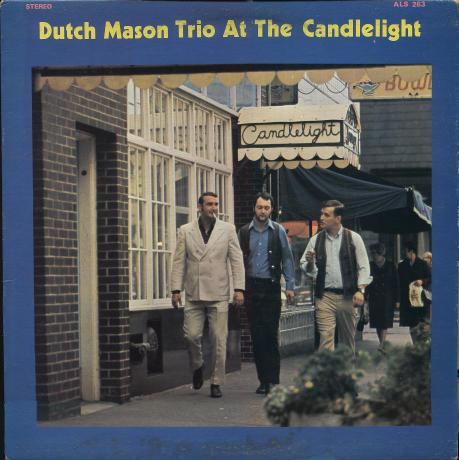 Scanned By Jim Rice
Band Members:
Dutch Mason And The Esquires: Late 1950's

Dutch Mason Vocals, Keyboards, Guitar

Bubs Brown Guitar

Zeke Shepherd Bass, Mouth Harp

Harold "Sticks" Boates Drums

Johnny Fraser Piano

Dutch Mason Trio: 1968-72

Dutch Mason (Guitar, Vocals)

Ronnie Miller (Bass)

Ken Clattenburg (Drums)


Dutch Mason Blues Band:

Dutch Mason (Lead Vocals, Guitar)

Wade Brown (Guitar)

Rick Jeffery (Harp) 1972-1987

Gary Blair (Drums)

Ken Pineo (Drums)

Gregg "Fish" Fancy (Bass)

Melwood McKinnon (Bass)1980-1981

Jack Jeffery (Bass) 1972-1976

Donnie Muir (Keyboards)

John Lee (Piano)

Paul Brown (Piano, Organ)

Terry Edmunds (Guitar)

Craig Roode(Guitar)12 years

Carter Chaplin (Guitar)

Anslie Jardine (Drums)23 Years

Garrett Mason (Guitar)

Charlie Phillips (Bass)

Biography:
Norman Byron Mason was born Feb. 19, 1938 in Lunenburg, Nova Scotia to professional musician parents. Father played stand-up bass and drums and mother played piano. Moved with his family at the age of 11 to Kentville where they called him Dutchie because of his strong south-shore accent. At the age of 14 he started playing drums in a dixieland band with his parents. At 16 learned to play guitar while hanging out with the Black guys in the community of Gibson Woods. His heroes were Carl Perkins, Jerry Lee Lewis and Elvis. First band was called the Wreckers followed by Dutch Mason And The Esquires. Went on the road at 19 playing dance halls around the Maritimes. Forgot about rock and roll after hearing "Sweet Little Angel" by B.B. King and knew from this point on he wanted to play the Blues.

In 1970 Dutch recorded his first album entitled "At The Candlelight". The album was actually recorded at Bicentennial Junior High School one Sunday morning in about 4-5 hours. The band was paid a bucket of chicken and two quarts of bootleg rum to record the album.

In 1973 became the house band at the Wyse Owl Tavern in Dartmouth, N.S., where they stayed for 13 months before moving to Toronto. Returned home in 1978 and recorded two albums for Attic Records. In the early 80's Dutchie
had to leave the guitar playing to others due to arthritis and diabetes. Took a nearly ten year break from recording. Was appointed the title "Prime Minister Of The Blues" by his hero B.B. King at a King concert in Toronto that Dutchie attended.

1990 saw Dutch return to the recording studio to record his first record for Stony Plain, logically titled "I'm Back!". The album utilized musicians from the Johnny Winter Band, Downchild Blues Band and others.

In 1991 Dutch performed on the Juno Award-winning disc, "Saturday Night Blues: The Great Canadian Blues Project Volume 1" - a joint WEA/Stony Plains/CBC Variety project, based around the CBC Radio show, "Saturday Night Blues". Amongst the 20 blues artists on this disc was also the Drew Nelson Band with whom Dutch recorded "You Can't Have Everything" in May-July 1992. The album consisted of several Drew Nelson songs as well as some cover versions. That same year, Dutch won the first annual "Great Canadian Blues Award" by listeners of the CBC show.

1996 release "Appearing Nightly" are tracks that were recorded in 1980 when Dutch still played guitar. His style and feel on guitar was influential on several Nova Scotian guitar players. Dutchie has always preferred to play in bars where he his closer to the people than in concert halls or arenas.

For Dutchie's 60th birthday concert promoter Brookes Diamond gathered together fellow musicians Sam Moon, Joe Murphy, Theresa Malenfant, Rick Jeffrey, Frank MacKay and the Lincolns, Matt Minglewood, Pam Marsh, Johnny Favourite, Bucky Adams and son Anthony, Doris Mason, Bill Stevenson, Carson Downey and Big City at the Halifax Metro Centre and recorded a tribute to Dutchie CD that was released the following year.

Dutch has received several awards including the first East Coast Music Awards lifetime achievement award, a Juno award, CBC Radio's Saturday Night Blues Award and has an award named after him at the Harvest Blues Festival in Fredericton.

Dutch passed away in his sleep on Dec. 23/2006 at the age of 68. At the time of his passing, Dutch lived in Truro, Nova Scotia and still did occasional gigs although he was confined to a wheelchair.



Footnotes:

On February 23/2002 Dutchie was among the first inductees into the Canadian Jazz and Blues Hall of Fame along with jazzman Moe Koffman, blues singer Jackie Washington and jazz pianist Oscar Peterson. Unfortunately Dutchie missed the ceremony as he was playing a gig in Fredericton, New Brunswick.

On Saturday April 17/2004 the East Coast Blues Society held the inauguration of the Dutch Mason Blues Hall Of Fame at St. Antonio's Hall in Halifax which is more affectionately known as "The Olympic Gardens" or the "Dirty O". Along with Dutchie's induction was the induction of the late Rick Jeffery who played harp for Dutch for 15 years. "Thank you very much for the award," said the
66-year-old bluesman from his wheelchair. "This really belongs to all the guys I played with over the years."

On Tuesday, September 13/2005 Dutch received his Order Of Canada after illness prevented him from travelling to Ottawa for the investiture ceremony two months earlier. The ceremony took place at Government House in Halifax with Lt.-Gov. Myra Freeman substituting for Gov. Gen. Adrienne Clarkson.

It is with great sadness to announce that Dutch Mason passed away on Dec 23/2006 at the age of 68.

May I add a bit about Dutchie who was always my fav Halifax act. The first time I ever saw him live was at the Sun Kee Kee Lounge @ Qinpool and Oxford where he was the house band in the lounge for quite a number of years. I would say that was 1970. I had a borrowed ID- it was a suit and tie job as they had a dress code. My two mates and I has a bit of a warm up on the grounds of the convent next to St Pats High- lovely manicured lawns and all the white statues! Then we fronted up at The Lounge at about 8:45- needless to say we were the first ones there and we had all of $10 between us. Worst thing was we ended up sticking out like dogs balls as we were the only ones not wearing jeans and tee shirts! I never went back but he did play there for quite a while before moving to the Monterrey up @ the Willow Tree. I was a bit older and this was a cool venue- no hassles of any kind. Dutchie was still playin' Polk Salad Annie as his theme song in those days and occasionally having a hit out on the drums. Woe betide anyone not in the know who asked for this song in later years! I moved to TO in 1976- a Dump. Dutchie played there a bit in the late 70's- Jarvis St Hotel and the El Mocambo, who employed the worlds biggest Turd as bouncer. But the music was Good. When the film The Exorcist came out it premiered at a cinema on Gottigen St, across form the Derby Tav. I was astounded to see one nite on the CBC News that a crew had gone there to speak with filmgoers! "Heres local identity and well known musician Dutch Mason- what have you got in the [paper] bag Dutchie? ".Sandwiches" was the reply..... then when the patrons were leaving the news crew were asking them how they enjoyed the movie. " how were the sandwiches Dutchie?" The reply escapes me..... that was 1973. Do you have any info on GoldRush? A Neil Young cover band- they played a gig at SMU in about 71 or so. Killer Egg- blew Steppenwolf off the stage at an outdoor concert at SMU Stadium which was rushed by a lot of non ticket holders.... myself included in 1969. Now I live in Australia and sell bicycles for a living..... All the best, Regards, Dave Phillips




Discography:
Dutch Mason Trio:

SINGLES:

Steamroller Blues / Hi-Heel Sneakers (Marathon)

ALBUMS:

1970 At The Candlelight (Paragon/Allied)

1971 Putting It All Together (Marathon)


Dutch Mason Blues Band:

SINGLES:

1977 Diddly Diddly Daddy/Hard Times (Owl/Solar)

1979 Barefootin'/Goin'To Chicago (London)

1980 Mister Blue/Did You Mess Your Mind (Attic)

1981 That's Life/It's All Wrong (Attic)


ALBUMS & CD's:


1976 Blues Ain't Bad (Wyse Owl Productions)
1977 Janitor Of The Blues (Solar Records)

1979 Wish Me Luck (London)

1979 Dutch Mason Blues (Rainbow)

1980 Special Brew (Attic)

1982 Gimme A Break (Attic)

1991 I'm Back (Stony Plain - reissued on Marilyn in 1992)

1992 You Can't Have Everything (w/The Drew Nelson Band) (Stony Plain)

1993 The Prime Minister Of The Blues (Stony Plain)

1996 Dutch Mason Appearing Nightly (Alive Presentations)

1998 6oth Birthday Live (Tidemark)

1999 Dutch Mason & Johnny Tornado "Goodtimes" (Anchors Away)


2004 Half Ain't Been Told (Pig Productions/CBC)

With "The Ducats Showband":

1973 The Ducats Showband (Paragon) Dutch Played Piano



CD COMPILATIONS:

1991 Saturday Night Blues: The Great Canadian Blues Project Volume 1 (WEA/Stony Plains/CBC Variety) "Just Your Fool"

"Fredricton Sept.12/2002" On Youtube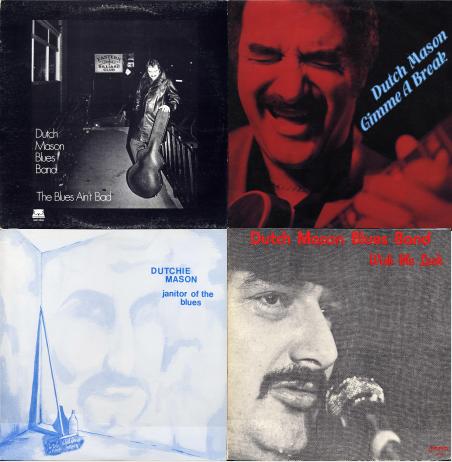 Courtesy Of Jim Rice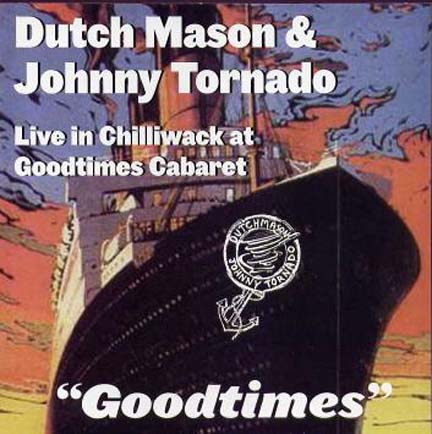 Courtesy Of Jim Rice
Info From Jim Rice, Stephen MacKinnon, Carter Chaplin, Bill Wiggins, Cindy Brown