The Citations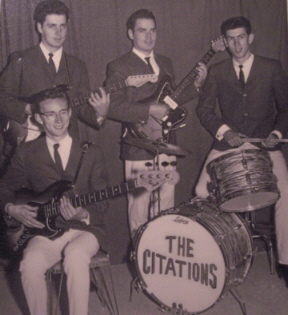 Courtesy Of Brenda Conrad
Bruce Conrad Guitar, Vocals
Arnie Conrad Rhythm Guitar, Vocals,
Wayne (Solly) Tanner Bass, Vocals
Willy Rhodenizer Drums

Gary Feener Drums
Doug Romkey Bass

Late 60's Line-up:

Wayne (Solly) Tanner Lead Vocals
Joel Zemel Lead Guitar
Gary Hiltz Rhythm Guitar
Wayne Richards Bass
Gary Feener Drums


"The Citations" played around Lunenburg County area in the early sixties. Wayne Tanner switched to lead vocals with the addition of Doug Romkey. The Citations won a "Battle Of The Bands" held in Kentville N.S. in the sixties.