Buddy And The Boys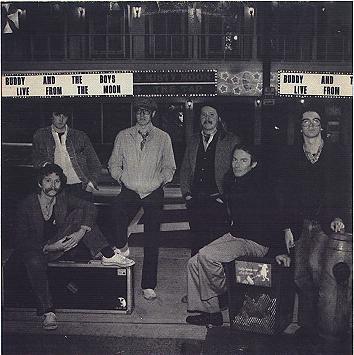 Courtesy Of Stephen Marsh
| | |
| --- | --- |
| Max MacDonald: | Lead Vocals |
| Leon Dubinsky: | Keyboards |
| Ralph Dillon: | Guitar |
| Berkley Lamey: | Bass |
| Eddie Harris: | Drums |
| Bobby Woods: | Drums on 1st Album |
| Ron Doug Parks: | Drums |
Cape Bretoners Dubinsky, MacDonald, Dillon and Lamey played in a band called "Homebrew".All but Dubinsky moved to Halifax leaving him to his farm and song-writing in Englishtown. The other three returned in the fall of 1976 after a year and did a few gigs before going into Solar Audio Studios in Dartmouth N.S. and recording "Buddy". This was only the second rock album ever released by a Cape Breton band.
"Buddy" is the story of the experiences of Cape Bretoners during the 70's but is not autobiographical. A Cape Breton rock opera of sorts, "Buddy" is the name Cape Bretoners most often use when they meet a new acquaintance. It is about leaving the Cape and moving to the big city but still longing for home. Then not being able to handle it anymore, returning home, getting engaged to his girlfriend, finding a job and finally looking in the mirror and reflecting on his life up to this point. Album is a mixture of Gaelic, Country, Blues, Ballads, Rock and Roll and even comedy. All songs were written by Dubinsky except "Kissin' The Causeway" written by Dubinsky, MacDonald, Dillon and Lamey, "Open Your Heart" written by Dubinsky, MacDonald and Gary Palen and "Workin'At The Woolco (Management Trainee Blues) written by Dubinsky, Dillon and Dave Harley. Album was released in 1977 on their own record label Shagrock Records.
Minglewood Band drummer Bobby Woods was brought in to record the album as well as a who's who of the Cape Breton music scene at that time made various contributions including: John Campbell, Marcel Doucet, David Harley, Ronnie MacEachern, Sam Moon, Matt Minglewood, Donnie Palmer and Enver Sampson.
Needing a name for the band they decided to call themselves "Buddy And The Boys" although there was not an acknowledged leader of the band and no one in the band is considered to be "Buddy". Drummer Eddie Harris was added to the band until family commitments forced him to leave. Ron-Doug Parks was brought in as a replacement.
More songs were written and performed live continuing the saga of "Buddy". In 1979 recorded "Live At The Moon" at the Misty Moon Showbar on Gottingen Street in Halifax where they made regular appearances. "Fast Food" single was also released the same year.
The band was encouraged to move to Toronto if they wanted to make it big, but chose to remain in Cape Breton where they were happiest and close to people they liked. After several years of touring, The Boys went their separate ways in 1983.
Dubinsky still lives on his sheep farm in Englishtown with his wife Beth MacCormick and their daughter. He has been writing music and a CD is soon to be released. MacDonald performed in the Cape Breton Summertime Revue from 1985 to 1994, acted at Neptune Theatre in 1985-86, was the chairman of the East Coast Music Awards in 1995 and currently operates Rave Entertainment in Sydney, Cape Breton which he started in 1995. Lamey is currently in the band Rockin' Saints. Parks buskered for a while as a one man band and moved to a farm in Upper Stewiacke, Nova Scotia and recorded a song called "Cow Shit" in the late 80's. Dillon went on to play with Rita MacNeil and produced her 1981 album "Part Of The Mystery" and co-produced her 1987 album "Flying On Your Own". Dillon is currently general manager of Cape Breton Music Online Inc.
In 1999 the "Buddy" album was digitally remastered by Donnie Chapman and released on CD. It also contains several tracks from the "Live At The Moon" album and the songs "Train (Part 2)" and a live version of "Workin' At The Woolco".
Written from info provided by: Leon Dubinsky, Beth MacCormick, Max MacDonald, Ralph Dillon and Jim Rice
1977 Workin' At The Woolco/Josephine (Shagrock Records)
1977 Love The Night Away/Open Your Heart (Shagrock Records)
1979 Fast Food (Slow Heartburn)/Every Mile (Shagrock Records)
1977 Buddy (Shagrock Records)
1979 Live From The Moon (Shagrock Records)
1979 "Hangin Around" Atlantic Folk Festival (Boot Records)
1999 Buddy (Shagrock Sound)
On May 28, 2005 original member Berkley Lamey passed away at the age of 57 after being strickened with cancer. Ralph Dillon passed away on November 29/2022 at the age of 72. Leon Dubinsky passed on January 17/2023 at the age of 81.
---
Return to the
Nova Scotia Classic Rock
Main Page