Band Of Gold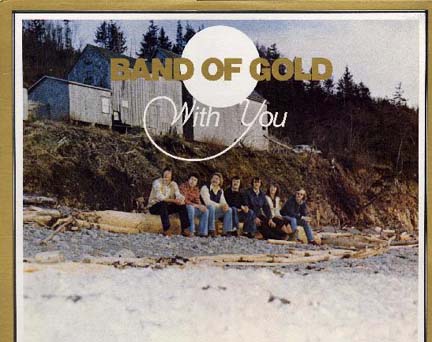 Courtesy of Bev Keddy And Bob Bauer
Scanned By Jim Rice
Band Members:

Marg MacNutt Lead and BG vocals
Don Barkhouse Guitar, Lead and BG Vocals
Steve Bigelow Bass
Rick Barton Drums
Robin Foley Organ, Electric Piano, BG Vocals
Bruce Rand Sax, BG Vocals
Paul Rand Sax

Biography:

The Band Of Gold, from the Annapolis Valley recorded the album "With You" at Audio Atlantic Recording Studios in Halifax. The album consisted of mostly cover songs such as "Love Will Keep Us Together" and "Best Of My Love". Al Feeney was the engineer and the band produced the album themselves.


Discography:

Albums:

19?? With You "The Great Eastern Production Co."