The Royal Regents
| | |
| --- | --- |
| Owen Carroll: | Guitar and Vocals |
| Sean Brownlow: | Guitar and Vocals |
| Gary Hall: | Drums |
Active in 1965 and 1966, this three-piece rock/pop group from Dartmouth had its most prestigious gig at the Atlantic Winter Fair in the Halifax Forum. Part of it was broadcast live on CHNS with Frank Cameron hosting. The Royal Regents also was the support act at a St. Mary's University show for a group called "The Reflections".
After the group split, Owen went on to Bedford Row, Sean to Inside Story, while Gary later played with Fire and Ice.
---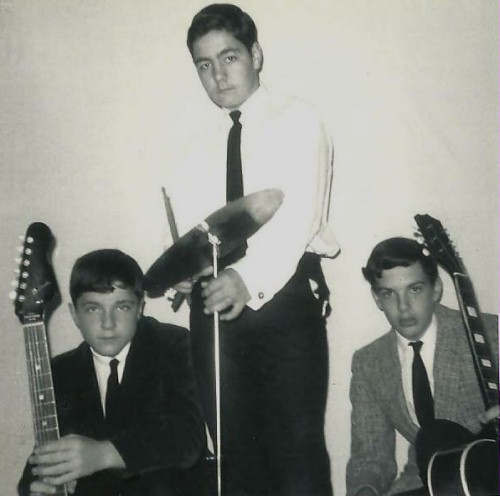 Fall 1965: For this publicity photo, Gary stands center with a cymbal and stand, while kneeling on the left is Sean with his guitar, and on the right kneels Owen with his guitar.

Fall 1965: In the same space as in the above photo, the band rehearses still wearing their suits. Gary drums at near left with Sean just beyond the kit, and Owen stands in the background.



Fall 1965: At the drummer's home for an alternate rehearsal space, the band members pose for a less-formal publicity photo.

---
Return to the
Nova Scotia Classic Rock
Main Page